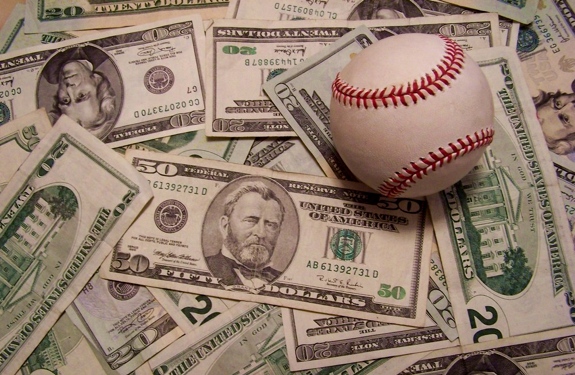 For dedicated sports gamblers, there's nothing more tempting than the big hit of a winning parlay. Even stringing together two correct picks greatly increases your daily profit and the payout rises exponentially as you charter into 4,5, or 6 game parlays. Of course, picking 6 winners on a single ticket is something even the experts can't pull off and unless you select a progressive parlay, going 5 for 6 pays out nothing. Parlays are attractive because minimal bets can reap maximum profits but they're also frustrating because what would've been a successful 5 for 6 gambling day only leaves you at a loss on a parlay card.
Baseball Parlay Betting – Baseball parlay betting is a lucrative option because what are normally untouchable money lines at -165 or -195 can be used in a parlay for potential profit. There's usually a good number of baseball games to bet on any given day and consistently riding hot pitchers can put your bankroll in a positive light. Here are some baseball parlay bets for this beautiful May day.
Toronto Blue Jays (-150) & New York Yankees (-180)…+159 Odds
Today we're going to ask these AL East rivals to team together and win us some money. The Blue Jays have won 4 straight and look to complete the sweep against a Mets team that might be without David Wright who is battling an illness. The odds are higher than I though they'd be for C.C Sabathia (5-1 3.77 ERA) vs. Cincinnati's Johnny Cueto (4-1 1.89 ERA) but Sabathia's interleague record is hard to bet against. The big man is 8-1 with a 2.65 ERA since joining the Yankees and we'll stick with the Bronx Bombers, even though switching from the Yankees to the Reds bumps the odds to +333 (…tempting)
Tampa Bay Rays (-150) & Texas Rangers / Houston Astros over 8.5 ….+218 odds
Potentially good pitching matchup in Tampa, where David Price takes on Atlanta's Tim Hudson. Price is 3-0 at home with a 1.16 ERA and we're hoping he leads the Rays to a series win today.
In our other matchup, the Silver Boot is on the line as the Astros somehow managed to upset the Rangers 6-5 yesterday to even the series at 1-1. After combining for 11 runs yesterday, I think today's pitching matchup lends itself to even more today. Look for a lot of Home Runs at Minute Maid Park this afternoon.
Detroit Tigers/Pittsburgh Pirates Over 9 & Chicago White Sox (-108) & Milwaukee Brewers (-230)…+406 Odds
Pretty bad pitching matchup in Detroit as 1-4 Kevin Correia takes on Max Scherzer, who sports a 6.26 ERA which will hopefully lead to a lot of runs. Likewise, the White Sox look for the all-important sweep over their crosstown rivals and they'll do so with 4-1 Jake Peavy on the mound (who's also won his last 5 over the Cubs.) Finally, Zach Greinke will look to extend his 15 inning scoreless streak, even though the Twins have won four straight including the first two against the Brew Crew.
As you can see, we've got a minimal bet that could turn into great rewards today. There's not one game that I feel nervous or horrible about and it should be a fun afternoon of baseball parlay betting…even though one game out of each will lose and today's profits will be $0….thus is the temptress known as the parlay card.